EQUIPMENT
Doboks:
Doboks (the Tae Kwan Do uniform) must be ordered through the Club, unless you have a Dobok from prior training. Dobok ordering forms will be made available in class. We prefer the ITF style Dobok with a zipper in front.
Footware:
For the Tae Kwon Do classes bare feet are the norm. This is mainly because the patterns and techniques include 180° and 360° twists, where the extra grip provided by soled trainers puts undue stress on ankle and knee joints.
Boxing classes are usually with trainers or boxing shoes.
Protection:
It is a condition of our insurance cover that the following standards apply. Students are responsible for ensuring that they are adequately protected for training and sparring.
| | | | |
| --- | --- | --- | --- |
| | Junior TKD | Senior TKD | Boxing |
| Compulsory for Sparring | | | |
| Gum Shields | | | |
| Head Guard | | | |
| Gloves | | | |
| Shin Guards | | | |
| Foot Pads | | | |
| Optional & Recommended | | | |
| Groin Protector | | | |
| Gloves | | | |
| Shin Guards | | | |
| Foot Pads | | | |
| Tournament Sparring | | | |
| Body Protector | | | |
| Forearm Guard | | | |
Wealden Martial Arts does not endorse any type or make of equipment. The pictures below are examples of typical acceptable equipment from three web-shops:
Head Protectors: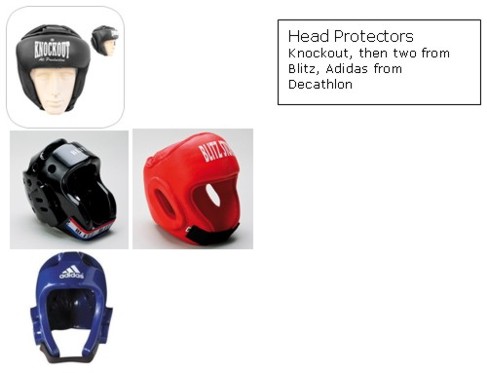 Leg and Body Protectors:

Footwear: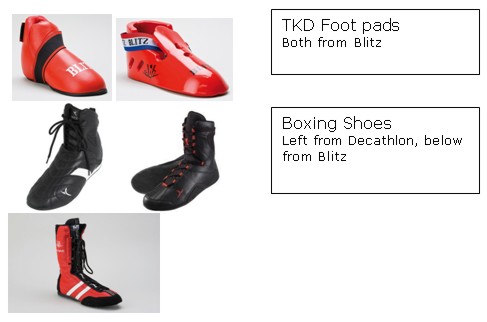 Gloves: